Top Rated Managed IT Services in Hickory NC
Total BC has successfully established itself as the leading provider of managed it services and have helped small business owners lower costs and improve efficiency with their phone systems. With over four thousand satisfied customers the Carolina's you can trust that we have the right products, technology and solutions to improve your current business phone communication. Total BC takes a unique approach with every customer in order to learn their specific issues and needs, and effectively assess problem areas with improvements to overcome their challenges and improve their business phone systems.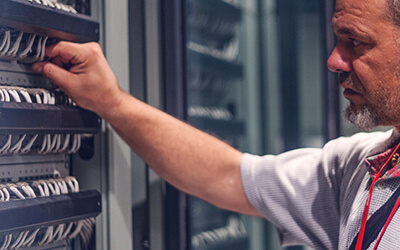 As a business owner, you are hoping your business is going nowhere but up. And as you scale, your technology needs to scale with you. Your business' IT services have to be as advanced and as aggressive as you, regardless if you're in a single office, multi-office, or mostly remote, TotalBC has hosted phone service, network solutions, secure cloud services, exchange email, and disaster recovery at a price you can afford.
Reliable Managed IT Services Solutions For Small Businesses In Hickory NC
The majority of the time, managed IT services are presented with a remote monitoring and management system (RMM) that enables an IT solution provider to monitor the health and performance of customer IT assets 24 hours a day, 7 days a week. Our team is able to perform proactive maintenance to improve and stabilize your business's IT systems and provide quick responses if anything goes wrong. According to the Computing Technology Industry Association, end-users experience almost 90% longer periods of downtime when the network server is not covered by remote monitoring. Many managed it services related tasks have been performed on a system-by-system or site-by-site basis. TotalBC is able to automate many tasks across systems and customer sites, which in turn only significantly reduces the time required for an expensive staff to go on-site and properly assess your problems.
Reduce and stabilize your IT costs and experience unprecedented reliability with managed services from TotalBC. You'll gain peace of mind, reduce risks to your data and assets, and be empowered to leverage your IT investments fully.
Scale Your Small Business IT Security With Our Comprehensive Solutions
Small business owners understand, you know the importance of your IT security. IT troubles can extremely difficult to assess if you do not have an experienced team on deck. Whether you have an IT professional or you're the IT professional yourself, your business' security cannot be monitored solo. Contracting TotalBC to take care of your IT means you can focus all of your resources on your primary business operations, maximize revenue, and be more efficient. TotalBC can provide affordable, 24/7 monitoring and management of all your IT assets, including systems, software, devices and virtual resources.
Why Choose Total BC For Your Information Technology Services?
Experienced & certified technicians when you need them
Access your system from anywhere
Support & maintenance are included
Comprehensive system testing
Patch management available
Reliable data backup and disaster recovery
Firewall monitoring
Antivirus and anti-spyware update management
At TotalBC, we believe in providing 100% customer satisfaction. Call us today for a FREE technology assessment. We will provide you with an honest and detailed evaluation of how our experts can improve your systems (and bottom line!) with our cost effective and comprehensive solutions. We'll even throw in a FREE 30-day trial to prove it. What are you waiting for? Give us a call today or request a free estimate!