Virtual Office Setup Company Serving Concord NC
Count on Total BC to provide a wide range of managed IT services for small business throughout the Carolina's.. With over 4,000 satisfied customers in the Concord area who were looking for virtual office setup services and found us, you can trust we'll find a solution for you. Total BC takes a unique approach with every customer in order to learn their specific issues and needs, and effectively assess problem areas with improvements to overcome their challenges and improve their business phone systems.
Why choose TotalBC?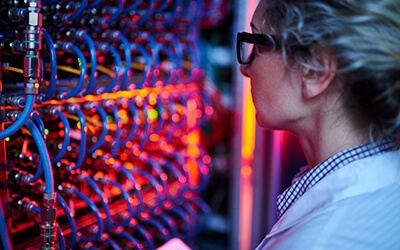 Experienced & certified technicians when you need them
Access your system from anywhere
Support & maintenance are included
Comprehensive system testing
Patch management available
Reliable data backup and disaster recovery
Firewall monitoring
Antivirus and anti-spyware update management
Virtual Office Setup Services By A Leading Provider In Concord
Are you looking for a solution to reduce your software issues and make it more convenient for you and your employees to work remotely without compromising your network security? You've come to the right place! TotalBC offers Virtual Office Setup for a monthly fee (fixed) that includes data storage and backup, help desk services, IT management, as well as server and software management. For our cloud hosting services, our average cost per user is just $3.50 per day, and we require no software to purchase or install!
What Comes With A Cloud-Hosted Service?
The advantages of our cloud hosting services include (but are not limited to):
Quick disaster recovery: Your business' information is stored in the cloud, meaning in case of a disaster or emergency, you can get back up and running in a matter of minutes.
Total flexibility:With the addition of new employees, you can easily add or shut off users on your network with a simple phone call or you can do it yourself!
Real world field support: Certified staff members that have a substantial amount of knowledge in computer networking and cloud technology that are ready to assist you when you need.
Tried and tested products: We've been testing our products brought into the market and we've been able to track down what's best for our clients through numerous trials and testing, so we know our solutions will work for you!
What Do You Get With Our Cloud Hosting Services?
An IT Infrastructure on par with Fortune 500 companies- without the IT department.
Flexibility for you and your employees. A secure, high-performance virtual office created for each of your employees with access to all the data and apps they need from any device, anywhere
A fully managed, data center with automated backup and recovery
24/7 data center monitoring and security
Predictable and manageable monthly costs that typically end up being much less than the cost to build and maintain a traditional system
As a business owner, you are hoping your business is going nowhere but up. And as you scale, your technology needs to scale with you. Your business' IT services have to be as advanced and as aggressive as you, regardless if you're in a single office, multi-office, or mostly remote, TotalBC has hosted phone service, network solutions, secure cloud services, exchange email, and disaster recovery at a price you can afford.
At TotalBC, we believe in providing 100% customer satisfaction. Call us today for a FREE technology assessment. We will provide you with an honest and detailed evaluation of how our experts can improve your systems (and bottom line!) with our cost effective and comprehensive solutions. We'll even throw in a FREE 30-day trial to prove it. What are you waiting for? Give us a call today or request a free estimate!